Share
---
Maintain your Enviro Bleach cedar shingles siding in 2 steps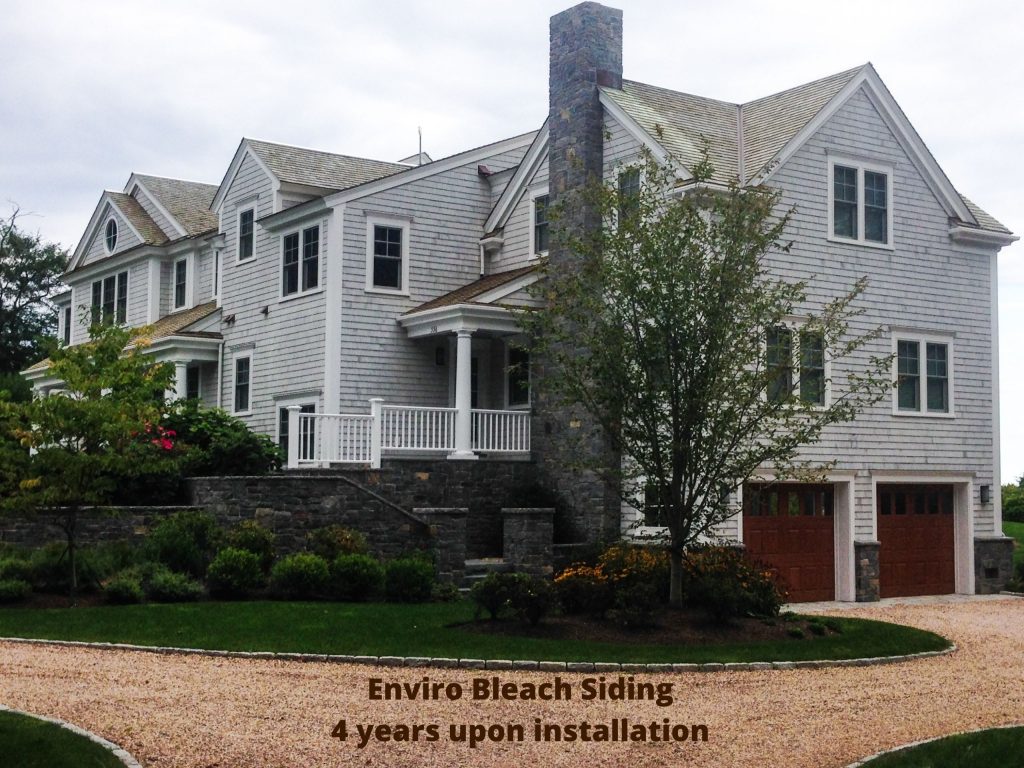 November 23rd 2020
10 years ago, we were the first to introduce an environmental option to oil-based weathering agents: the Enviro Bleach was born. This hybrid weathering agent has quickly become a benchmark for our customers who want the classic silver shade of weathered shingle. A lot may have happened in 10 years, how about the maintenance of your shingles?
First of all, it is important to know that Enviro Bleach is not finish. It is not necessary to apply additional coats over the years as the product allows the shingles to age naturally. However, if you want to give them more uniformity, it is possible to apply a new coat after a minimum of 2 years.
Should you decide to recoat your shingles, follow these 2 steps and get in touch with us to order your coating as Enviro Bleach is exclusive to SBC.
 * For each of these steps, it is always recommended to test it in a small area.
Preparation
You can prepare your surface 2 ways. The first is to sand the entire surface with rough (80 to 120 grid) sandpaper. 
If you prefer, you can also use chemicals:
–  Start by combining 4 ounces of trisodium phosphate (TSP), 1 liter of bleach and 3 liters of water.
–  Before applying the solution, spray the shingles with water to moisten them.
–  Then, apply your mixture and leave on for 15 to 20 minutes while scrubbing with a brush to remove dirt. The surface should not dry out.
– Rinse your cedar shingles with a water jet not exceeding 500 psi. Always point the water jet downwards.
– Let dry 2 days without rain.
If mold stains remain on the surface, mix 4 ounces of oxalic acid with 1 gallon of hot water, spray the stains, let sit for 15 minutes and rinse with water. If you do this step, you need to let it dry for 2 more days.
Application of a new coat of Enviro Bleach
Follow these guidelines carefully:
– Use a long-haired brush.
– Make sure there is no residue on the surface.
– Choose a period without rain with a minimum of 50oF (10oC) and a maximum of 86oF (30oC). Avoid application in direct sunlight.
– Stir well and scrape the bottom of the stain container before and during the project.
– Avoid applying too much product. A very thin layer is sufficient.
After you have followed these steps and used your greatest painting skills, you will admire your work and your neighbors will undoubtedly be jealous!
---

You could also like
No other articles in this category. Got ideas? Contact us!